Luxury has never looked as good for the planet as it does now!
The world is changing and with it so are our passions and beliefs. As a nation we are fast becoming more aware of our impact on the planet and how we can make changes to create a better world for the next generation. 
These eco-friendly changes are seeping in to every aspect of our lives, from what we wear to how we renovate our homes and here at Ribble Valley Bathrooms we are happy to advise you on how you can design your perfect eco-friendly bathroom that will not only contribute to making the planet a better place but will impress your guests and give you the relaxing sanctuary that you deserve.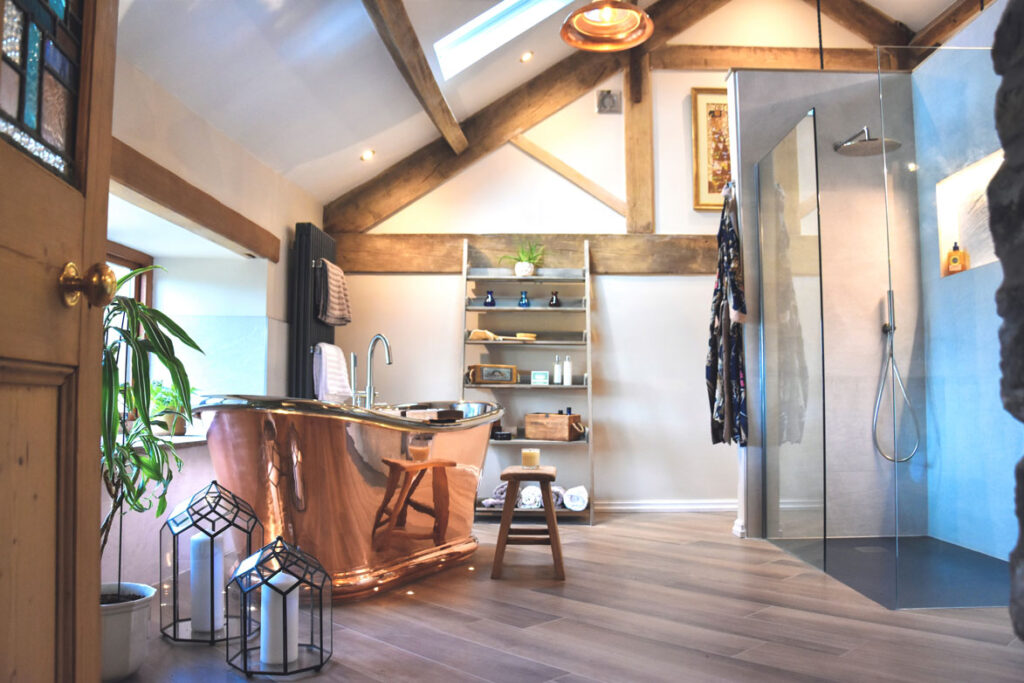 Why design an eco-friendly bathroom?
If you are currently planning your bathroom makeover or are designing a brand new bathroom, ensuite or cloak room but have not yet considered including an eco-friendly or sustainable element, then here is why you should. By making some small design changes you, and your bathroom, can go a long way to helping make the planet a better place. You can contribute to reducing waste, cleaning the air supply, and minimising the carbon footprint with minimal effort but maximum impact.
If you want to start making a difference and design an eco-friendly bathroom then here are our top tips to get you started.
Purchase recycled and recallable products.
When designing your new eco-friendly bathroom look for items that have been made from recycled materials or those that are biodegradable and 100% recyclable themselves. By making this easy switch you will be reducing the amount of waste that is sent to landfills and therefore you will be having a positive impact on our air, soil and even on climate change.
Making this change is easier than you think as due to technology advances and a desire for sustainability there are now numerous eco-friendly options available for every aspect of your design from the accessories through to the appliances. One such surprising example is tiles.
Certain ceramic and porcelain tiles are now made from recycled materials making them the perfect choice for your new bathroom. Tiles, such as these ones from Ca'Pietra, are not only beneficial for the planet but as they have a long lifespan they are financially beneficial for you in the long run too. Another added benefit of these tiles is that they are easy to maintain and clean which reduces the need for harsh chemicals allowing you to be even more eco-friendly on a day to day basis.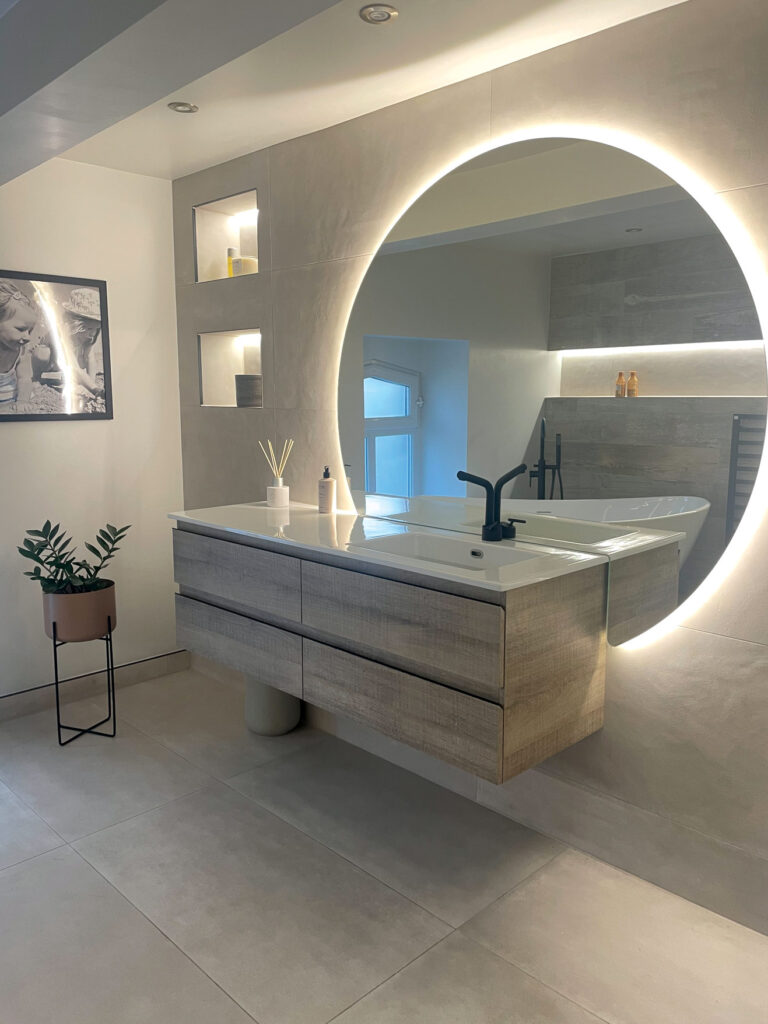 Select made to measure furniture.
Made to measure bathroom suites are perfect for those awkward spaces but they are also an eco-friendly option. Especially if you use companies such as Sanijura who create the pieces you want after you have placed your order, helping to reduce the waste which can often be found when products are mass produced.
Shop for durability and quality.
When selecting the products that you want to feature in your new bathroom opt for quality and durability wherever possible. This may mean that the initial price is slightly higher but it also means that you will not need to replace the products as often and therefore you are once again helping to reduce the number of broken products that ultimately end up in landfills.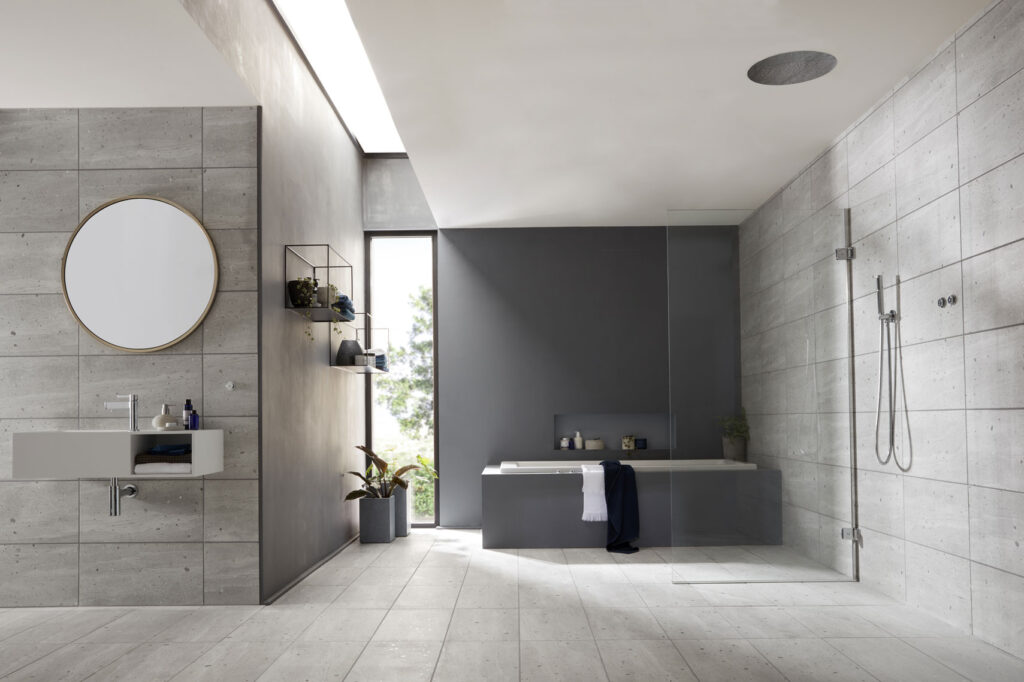 Include Water Saving Measures.
Bathrooms are thirsty spaces and wasting water is not only bad for the planet but also for your pocket if you are on a water meter. It can be easy to forget that water is not actually infinite and if we continue to use it at the rate we currently are then the planet could see a massive drought. However, there is no need to feel you are unable to enjoy your new luxurious free-standing bath or that you now need to clock watch every time someone steps in your new power shower, instead include water saving measures in your initial bathroom design.
There are a few ways in which you can do this, such as ordering water saving basins and mixer taps that are designed specifically to reduce the water usage without you even having to think about it. Another brilliant design option is to include sensor taps, especially in the family bathrooms as not only do these help to reduce water waste but are also more hygiene efficient too.
And when it comes to the toilettes there are water saving to be made here as well, as by selecting one of the increasingly popular toilettes with dual flush technology you will use as little as 2.6l and 4 litres per flush.
If your dream is to create a fully eco-friendly bathroom and you are not looking to make one or two changes then the best piece of advice we can give you is to research bathroom manufacturing companies and find out what is at the heart of their brand. Catalano, for example, is a brand who was born with the future in mind. Their entire ethos is about making strides in sustainability and they pride themselves on not only being able to help you create the bathroom of your dreams but also on setting the bar high for all other bathroom manufactures to follow. 
Catalona was the first company to ever be awarded the ESG certificate, they have sustainability at the heart of each and every process that is involved in creating their products from their production line to their new drying technology, to their packaging and delivery methods.
Whether you want to incorporate a few eco-friendly changes or create a fully sustainable showroom be sure to give us a call here at Ribble Valley Bathrooms and we will support you every step of the way, from designing to recommending eco-friendly suppliers to installation.