Achieve five star style by combining high-quality materials, elegant design elements, and attention to detail.
Here at Ribble Valley Bathrooms, we pride ourselves on designing and installing luxury bathrooms. In this blog, we debunk the myth that luxury means minimalistic and deep dive into how you can achieve five star style by combining high-quality materials, elegant design elements, and attention to detail.
Invest in high-quality materials that exude luxury. This includes selecting premium tiles, countertops, fixtures, and fittings. Options like marble, granite, quartz, and high-end metals like brass or gold accents can create an upscale feel.
If budget is an issue you can look for replica materials to gain the same result but be careful in your selection as these choices may not be as tough wearing or as long lasting. High end taps, showers and accessories are designed with an understated style and sense of refinement. 
We are huge fans of British design and manufacturer frontiers, Samuel Heath. The brand's craftsmanship has remained over centuries and each piece is meticulously formed from the purest of solid brass and polished by hand.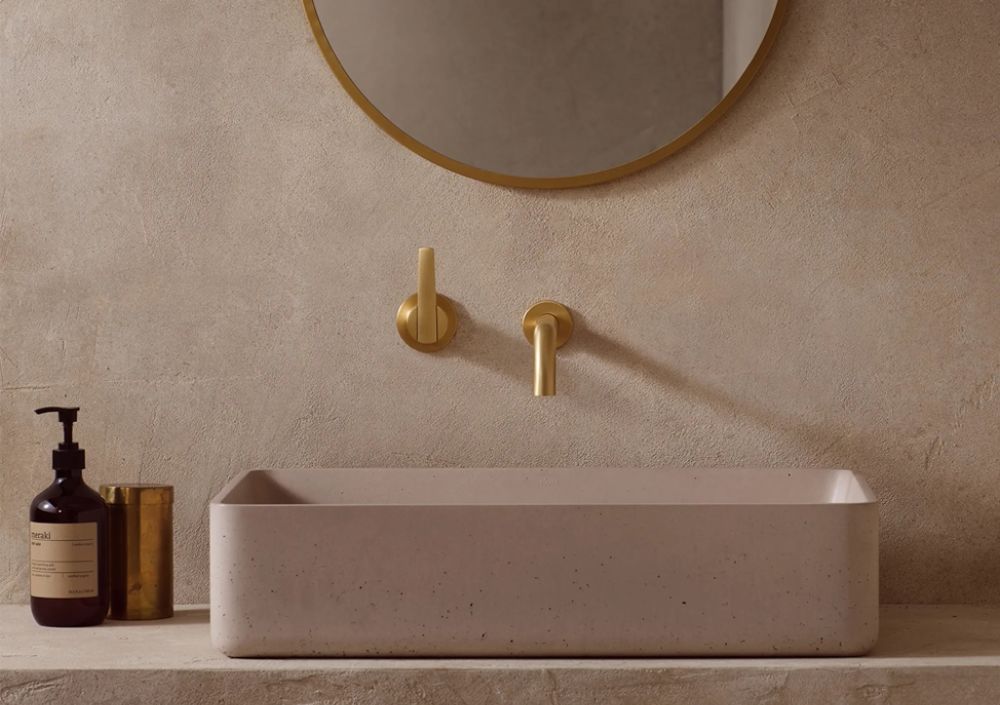 Image above: Forme brassware taps by Samuel Heath
Choose a focal point for your bathroom. This element should draw attention and become a centerpiece of luxury in the room. For example if you are choosing a Farmhouse feel and space permits, then a freestanding bathtub would elevate the space. Or, if you want to evoke hotel gothic then an elaborate vanity, or a statement wall of rich green tiles would result in the wow-factor. 
One key design feature which is rising in popularity is the 'his n hers' basin and mirror. This use of symmetry exudes class and can also work really well to create a feature area in the space.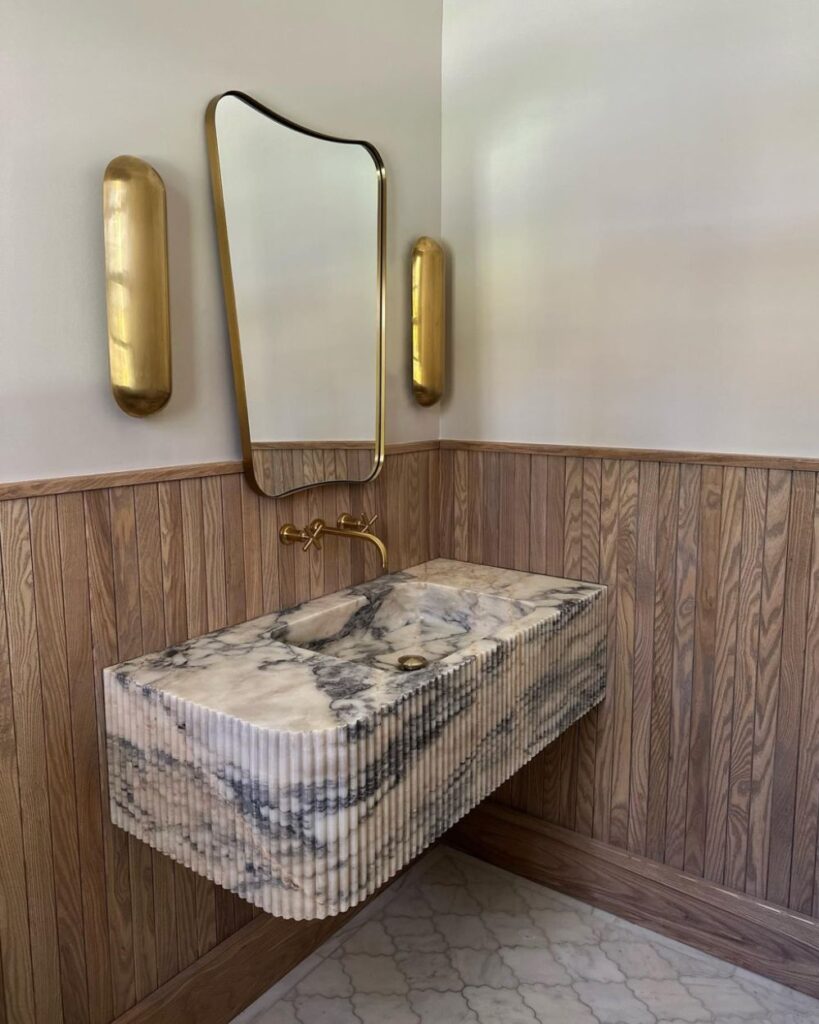 Image above: Statement vanity and mirror feature: credit Ryan Saghian Interiors
We like to incorporate layered lighting to create ambiance in our bathroom schemes. A combination of task lighting, accent lighting, and ambient lighting work best to suit a luxe-look. Think how a luxury hotel would take you from day to night and mimic this in your own bathroom space. Consider adding dimmers to control the intensity and mood of the lighting.
Install a Spacious Shower
When it comes to luxury bathrooms, size often matters. A large, walk-in shower with features like rain showerheads, body jets, and steam options is the epitome of luxury showering. If you don't have the footprint you can still create the illusion of space by choosing elegant, glass enclosures or frameless shower doors for a sleek and modern look.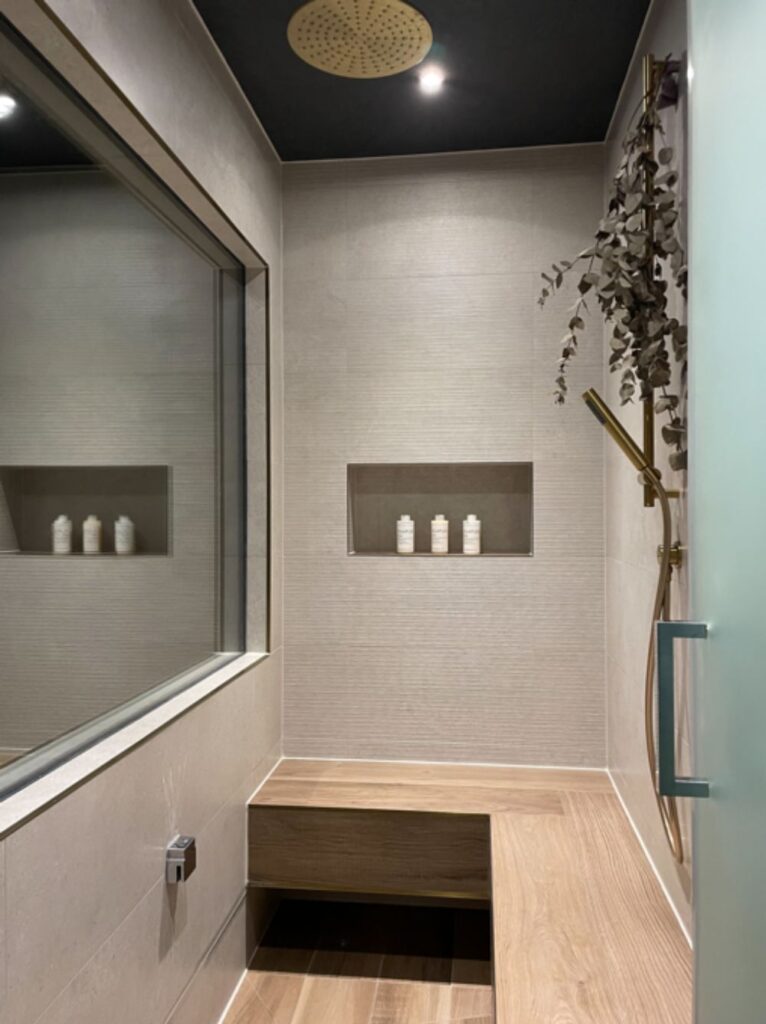 Image above: credit Ribble Valley Bathrooms
Consider Smart Technology
Incorporating smart technology into your bathroom, such as motion-sensor lighting, voice-activated features, smart mirrors, or a programmable shower system can create a modern and immersive experience.
Pay attention to small details that enhance the luxurious feel. Consider features like heated flooring, towel warmers, built-in sound systems, or even a fireplace. When it comes to styling your bathroom project, include high-quality towels, bathrobes, and accessories to complete the look.
Designating space for storage to keep your bathroom organised and clutter-free is a good rule in creating a luxurious vibe. Consider custom-built cabinetry, hidden shelving alcoves and elegant vanities with ample drawers. Choose similar colours to the rest of the room or walls so these features blend in.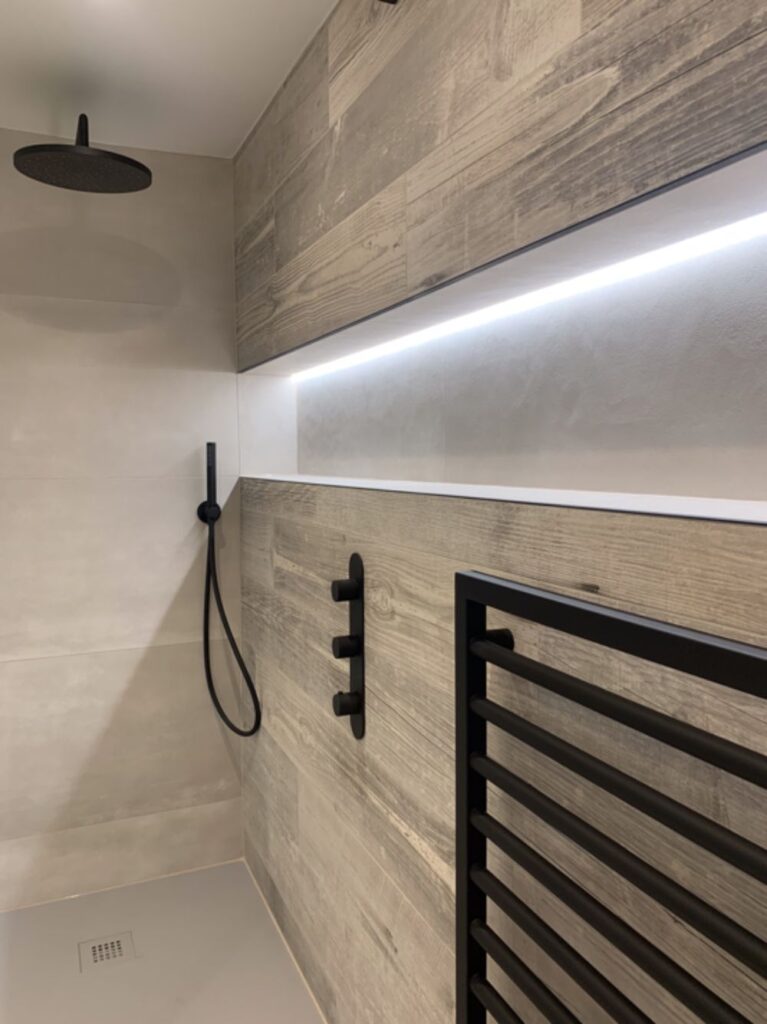 Image above: walk in shower with large niche: credit Ribble Valley Bathrooms
Incorporate Natural Elements
Introduce natural elements like indoor plants, natural stone accents, or wood finishes to add warmth and a spa-like atmosphere to your luxury bathroom. The biophilic trend is going nowhere and bringing in natural materials where possible help to bring the outside in.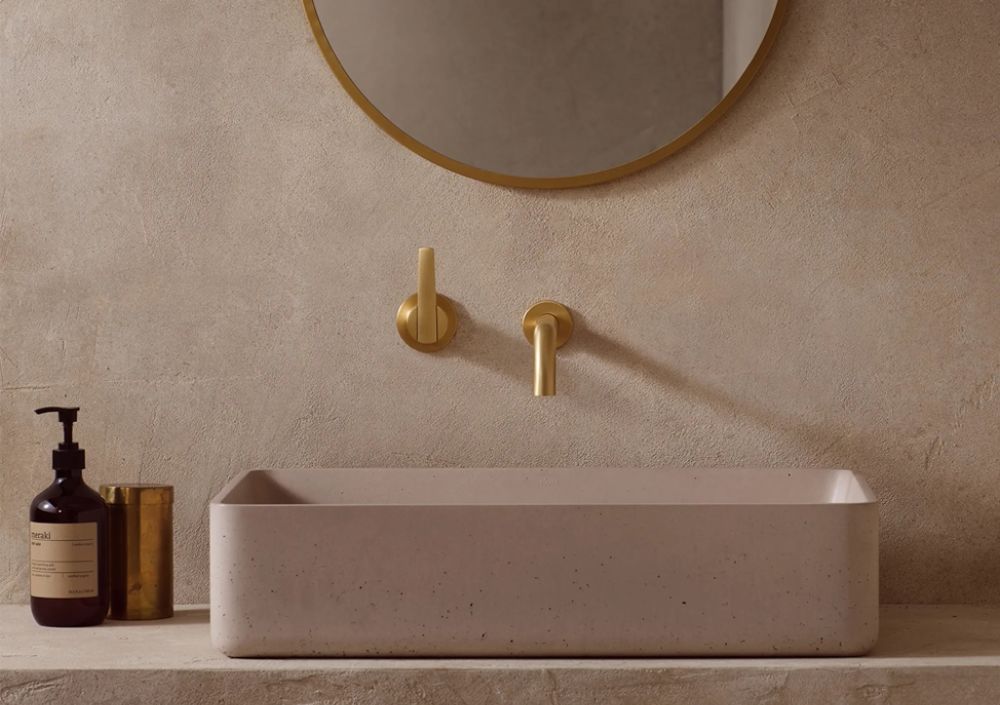 Image above: Forme brassware taps by Samuel Heath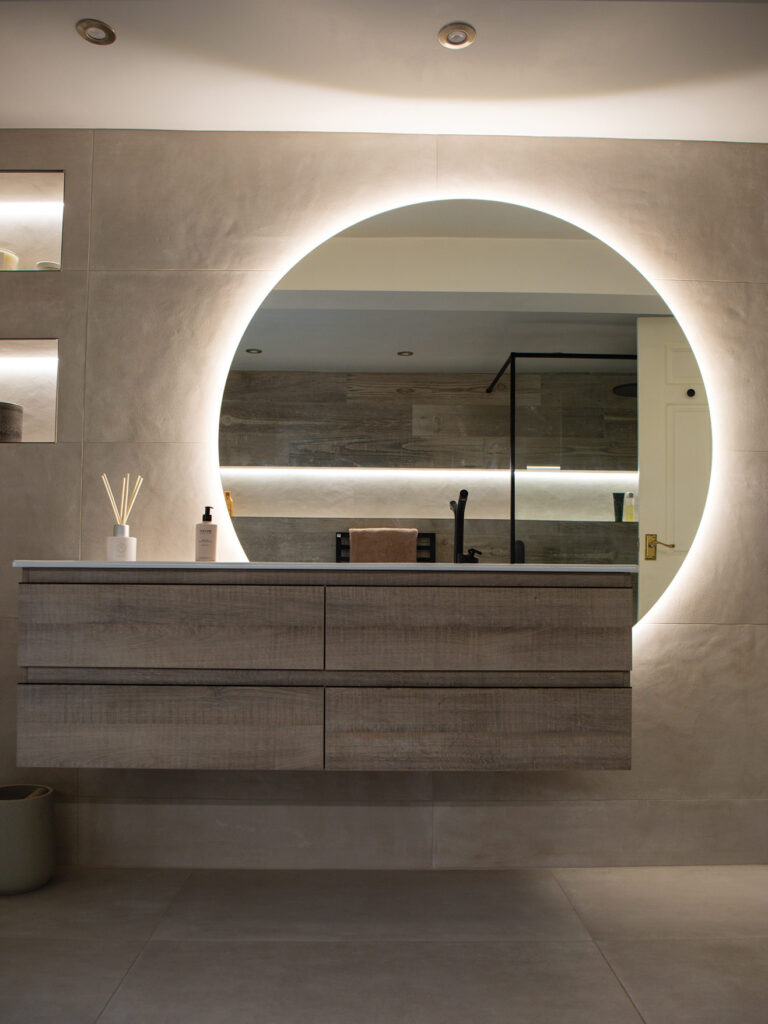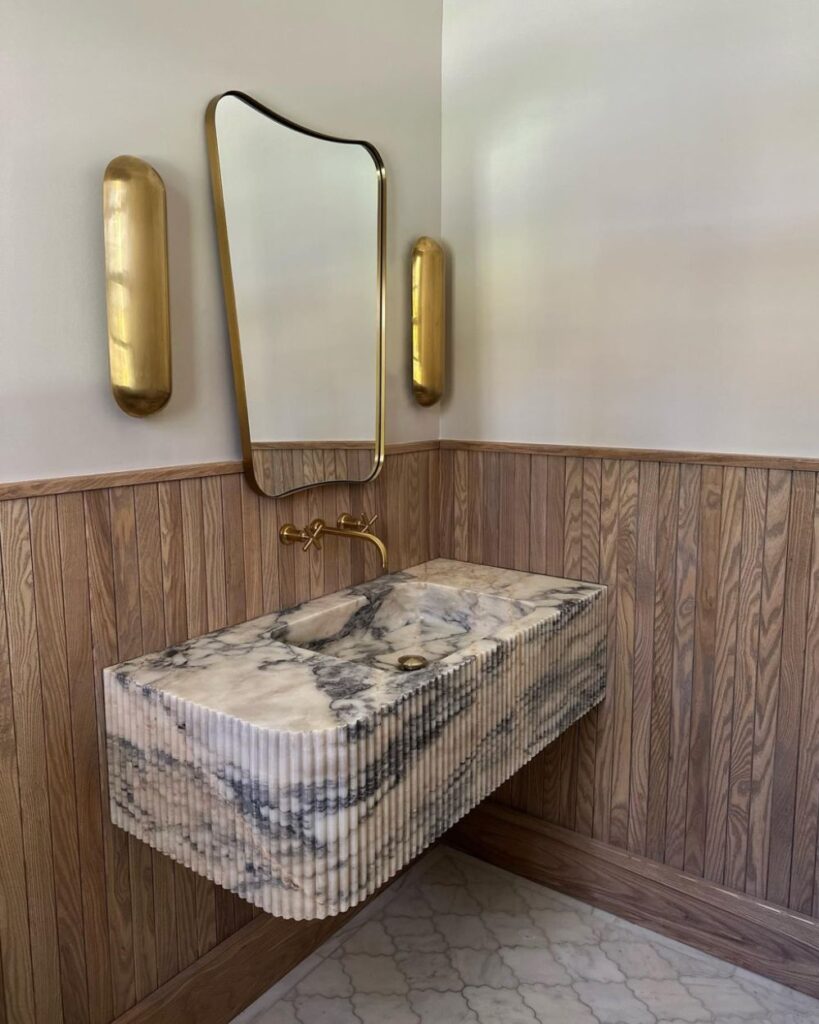 Image above: Statement vanity and mirror feature: credit Ryan Saghian Interiors